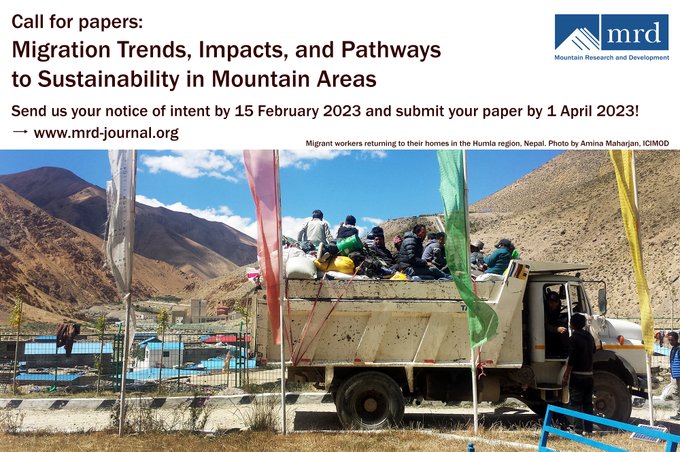 Learn more about the opportunity here!
Mountain Research and Development Journal is asking for a call of papers on migration trends and their impacts on mountain areas. They say, "with this focus issue, we aim to contribute to a better understanding of migration trends, drivers, and impacts in mountain areas. In particular, we are looking for papers that examine how governance and development initiatives can strengthen the benefits of migration and reduce its drawbacks in terms of sustainable development."
Submission details

E-mail a short notice of intent (including a working title, 2–3 sentences on the content, and the journal section to which you intend to submit the paper) to [email protected] by 15 February 2023.
Submit your full paper by 1 April 2023 using MRD's online submission platform.
The issue is scheduled for completion in February 2024; articles will be published on a rolling basis, as soon as they are ready.
Before submitting, please read our at guidelines for authors.
As a not-for-profit open access journal, MRD charges authors a publication fee to offset part of its production costs. Read more in our publication fee policy.